THE WEEK OF MAY 28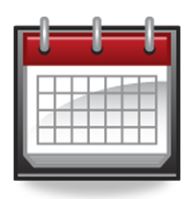 This week's schedule.
Altar Flowers Schedule
May 28 - Barbara Nybakken
June 4 - Sue Fletcher
June 11 - Maureen Smyth
Property Offer
Steps in Land Process
Secure accepted offer - DONE
Have Finance Committee work on loan amount $150,000 Loan - DONE
File project with city planners - DONE
Meet with City Planners
Rezone for a church
Inspect and certify: EPA Test
Hold Congregational Vote on property
File EPA test and other documents with Mission Investment Fund
Sign off on Due Diligence
Obtain loan certification letter
Complete 90 day lease with renter
Close on land
The land is located at 40050 W. Santi Rd.
Summer Message Series
Beginning on June 11, Pr. Glenn will begin his message around Luther's Small Catechism. He will cover the Ten Commandments, the Creed, and the Lord's Prayer. You are encouraged to read each section of the Small Catechism in preparation for Sunday morning. You can download a free app or find it online. If you would like a hard copy, see Pr. Glenn. June's schedule is as follows:
June 11—Commandment 1—Exodus 20:1-6 and Matthew 6:24-33
June 18—Commandment 2—Exodus 20:7; Philippians 2:5-11
and Matthew 1:20-23
June 25—Commandment 3—Exodus 20:8-11 and Matthew 12:9-14
Tuesday Bible Study
Our study of Jesus and the Gospels is winding down and we will start a new series on WEDNESDAY, June 14. This series will study the world's religions beginning with Christianity and going on to Judaism, Islam, Hinduism, and Buddhism. Please join us on Wednesdays at 2 p.m. at Pr. Glenn's—42546 W. Corvalis Lane (Glenwilde).
The way of Grace - May 14, 2017
Madison, Wisconsin being a university town is a town that likes to read. I noticed there were all kinds of free newspapers scattered throughout the city. The newspapers were supported mostly by advertisers and each newspaper had their own little niche. Some were aimed at the music scene, others toward family and even some on the far edge of which you might recognize the name of The Onion. Well I decided to publish my own Christian newspaper called Hope In Action. I wanted to highlight all the good things the church was doing in the world. This is my first encounter into the wide range of theology among Christians. Some churches would allow my newspaper because either I was not born again or they wanted to take an ad out against abortion. Others wanted me to lay down the law against all those sinners in Madison. I even got a call from a person who told me that he researched scripture and there are over 200 laws that Jesus proclaimed and if you don't follow all of them, you are toast. He wanted me to print those laws. Needless to say, for many Hope in Action became Hopeless in Action.
On Line Giving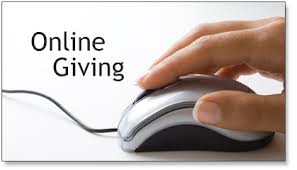 Just a friendly reminder that we offer electronic giving as a way to automate your regular weekly offering. Electronic giving offers convenience for individual members and provides much needed donation consistency for our congregation.
MLC is now a Partner with Arizona Faith Network

The mission of Arizona Faith Network is to bring together People of Faith, under the inspiration of God, as a bridge to understanding and action- "Being Together, Talking Together."
Civil Discourse- We facilitate respectful, civil conversations that engage people of faith, government and community in constructive dialogue around issues for the common good.
Community Transformation- In collaboration with community partners, we identify our collective energy and resources to promote love, respect and justice for all people, especially those who are most vulnerable.
Their mission involves 3 main Commissions: Theological Dialogue, Public Policy and Earth Care. All events are open to friends and members of MLC! We are seeking 2 ambassadors from MLC to be our AFN advocates.
Next Event: Environmental Racism: Voices of the People Thursday, May 18th 6:30-8PM at Valley Unitarian Universalist Church W. Del Rio St. Chandler, AZ
If you are interested please see Pastor Glenn. You may find more info at www.Azfaithnetwork.org
May Birthdays and Anniversaries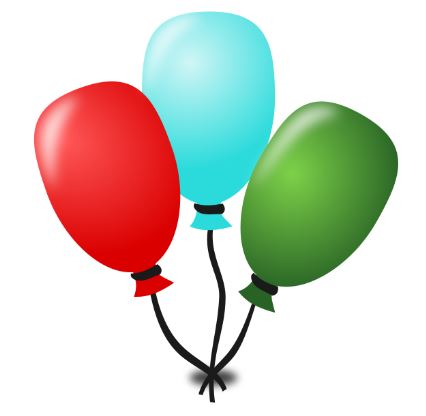 Birthdays:
Gale Stratman - 5/11
Claude Marsh - 5/19
Maureen Smyth - 5/19
Richard Rohde - 5/27
Jordan Anderson - 5/29
Lyn Hunsaker - 5/29
Bruce Nybakken - 5/29
George Walter - 5/31
Anniversaries:
Curtis and Susan Bader - 5/10
James and Modestine Brown - 5/10
Horace and Ruth Mayes - 5/22
Vacation Bible School
We will be joining with Journey Methodist to offer Bible School for our children. It will be June 6-9 from 6-8 p.m.. We currently have 6 children interested in attending. Three of our members have agreed to assist. However, we still need one more who would be willing to lead the music portion. A CD with all of the songs will be provided so no need to know how to play a musical instrument. This person would be teaching the children the songs and developing actions and/or signs to go with the music. If you are able to help, please contact Sharon Mros at 612-990-0153.
Reports and Downloads
Just added to the Download Page:
Special Council - May 7, 2017
Stewardship - May 3, 2017
God's Love for All People - May 7, 2017
Apparently if head East on Interstate 10 on the other side of Tucson is a tourist trap known as the Thing. It is a museum of course that includes wild and wacky things. Do you want to know that the Thing actually is?
It is a mummy in a coffin. There now I have saved you tons of money because you don't have to stop and see it. Speaking of wild and wacky things. We are going to talk this morning about one of the strangest stories in the Bible. It is the story of the Ethiopian Eunuch. Think about this scenario. This guy is rich. He can afford a chariot and someone to pull him along. He is in charge of the Treasury so he is an upper crust society guy. You would consider him as someone on the President's cabinet. For whatever reason he decides to go to Jerusalem and worship. So on the way home he is on a dusty road out in the middle of nowhere. As he is being pulled along in his chariot, he is reading the Old Testament from the book Isaiah.
Nurture and Mission - April 30, 2017
In the coming weeks we are going to be focusing on the book of Acts. Since we spent the year looking at the Gospel of Luke, Acts is actually the second half of the story. The Bible really messed things up. The New Testament should have been, Matthew, Mark, John, with Luke-Acts placed together. Acts is the extension of the Gospel of Luke and should be viewed with that in mind. We will touch on Pentecost after a few weeks, but after the day called Pentecost, we read the following in Acts 2:44-47.
New Members - April 23, 2017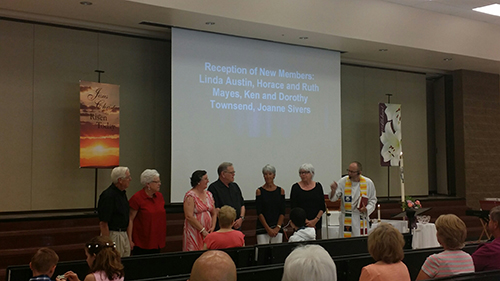 We welcome our new members who joined MLC on Sunday, April 23 - Linda Austin, Horace and Ruth Mayes, Joanne Sivers, and Ken and Dorothy Townsend!
Welcome Statement
Please visit our website and see our new pictures and our new "welcoming" statement!
Visit the pages:
Remembering Easter Sunday 2017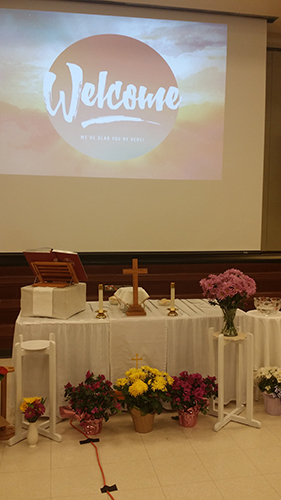 Easter Sunday - altar, Gary Decker and Laurie Nicholas and their grandchildren, and the children's sermon. Look at the kids!!!!!
Remembering Holy Week 2017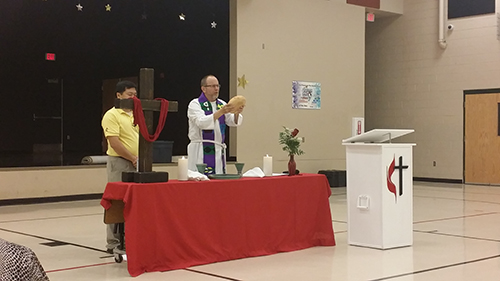 Pictures from Holy Week at Journey United Methodist - Pastor Terry and Pastor Glenn.
Altar Guild
We are in need of people who can help set up the altar on Sunday mornings. You do NOT need to commit to a month, but just do it as you are able. Please see Helen Sparks if you are interested. Thank you!!
Easter Messages from the Pastor's in the City of Maricopa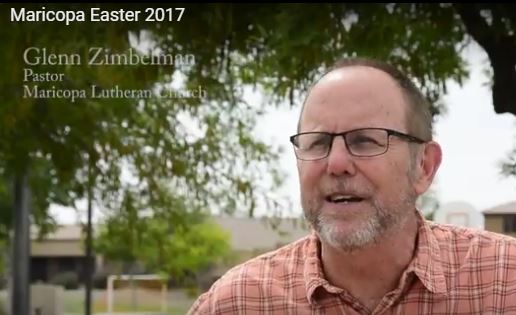 Some of Maricopa's faith leaders ponder the significance of Easter in a religious setting and its impact on a modern congregation in the midst of secular, cultural celebrations of the season. Pastor Zimbelman closes the video.
Seeing Jesus - April 23, 2017
There is a saying in baseball about spring training, Hope Springs Eternal. This means that at the beginning of Spring Training, everyone is in first place. Maybe this is the year when all the pieces will come together and your team will win. Isn't it just a fantastic thing that we no longer have to hear the phrase, Long Suffering Cubs Fan. The Cubs did it. Now it is the Cleveland Indians turn. They have gone the longest in years without a title. My Seattle Mariners have the current dubious record of not making the playoffs since 2001. You see we don't even have sights on the World Series, we just hope to make the playoffs. Baby Steps. Then what happens about 1/2 way through the season the teams stink and we trade away players. Or, perhaps we are lucky enough to be in the playoff hunt but alas fall short. Then what happens is disappointment. Wait until next year. We have all kinds of disappointments in our lives. The promotion doesn't happen. Jobs are lost. Health concerns crop up. Children make unwise choices. We place our hopes in(you fill the blank) and then reality hits.